A Look Into the Markets
Home loan rates crept higher in the final week of 2022. As we prepare to ring in another year, let's look at some themes that should bode well for housing in 2023.
Inflation Has Peaked
One of the biggest economic stories in the U.S. was seeing inflation hit the highest levels in over 40-years. The Federal Reserve, led by Jerome Powell, lifted short-term rates at the fastest pace in decades to combat inflation and help reach their federal mandate of price stability.
There are different monthly readings that track consumer inflation, including the Consumer Price Index and the Core Personal Consumption Expenditure Index. The good news is both readings have declined in recent months, suggesting we enter 2023 with the rate of inflation slowing. This is good news, because it will take pressure off Fed rate hikes and it will allow long-term rates, like mortgages, to continue to improve in 2023.
Recession Fears Elevated
At the December Fed Meeting, the Federal Reserve revised their economic growth forecast lower to just .50% in 2023. This means the economy is going to slow further and be at or close to a recession next year. What could tip the economy into a recession? Policy error. This is a fancy way of suggesting the Fed may hike rates too far or keep rates high too long.
The Treasury market, which is arguably more accurate than the Federal Reserve in forecasting economic conditions, is saying a recession is looming. The 3-month T-Bill has been yielding more than the 10-year Note yield. This has happened eight times since the 1960's and each time a recession came in the months thereafter.
The good news is if the economy is at or near the recession, it will help lower inflation, lower rates and make for a healthier housing market, with slower price gains.
Labor Market Remains Strong
Probably the brightest spot in our economy is the labor market, we finish the year with a tight 3.7% unemployment rate. We expect unemployment to tick up from here as the Fed wants unemployment to move higher and slow demand. Even still, an unemployment rate beneath 5.00%, which is what we should expect for the foreseeable future, is healthy and will support the housing market into the future.
The good news is, jobs buy homes and our labor market looks healthy heading into 2023. It may be strong enough to help our economy avoid a recession.
Bottom Line:
After a rough 2022 for interest rates and housing, there are many positive signals as we enter 2023, setting us up for a healthy housing market into the future.
Looking Ahead:
Next week is a short week, with markets closed on Monday. However, we will get to see the final jobs report for 2022 as the December reading comes out next Friday.
---
Mortgage Market Guide Candlestick Chart
Mortgage-backed security (MBS) prices determine home loan rates. The chart below is a one-year view of the Fannie Mae 30-year 5.5% coupon, where currently closed loans are being packaged. As prices go higher, rates move lower and vice versa.
You can see on the right side of the chart the Green Candles moving sideways as we enter 2023. This means rates are stable as we move into the new year.
Chart: Fannie Mae Mortgage Bond (Friday Dec 30 2022)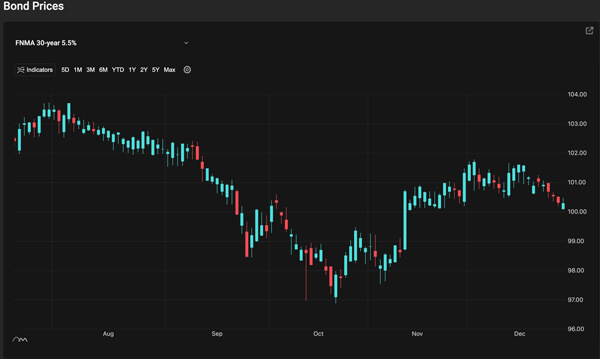 Economic Calendar for the Week of January 2 - 6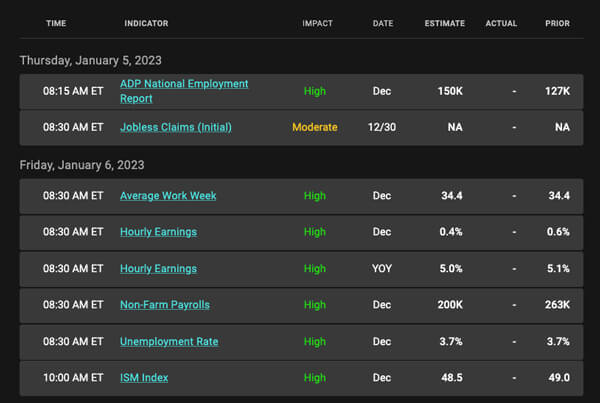 John Higgins
NMLS #136061
---
The material contained in this newsletter has been prepared by an independent third-party provider. The content is provided for use by real estate, financial services and other professionals only and is not intended for consumer distribution. The material provided is for informational and educational purposes only and should not be construed as investment and/or mortgage advice. Although the material is deemed to be accurate and reliable, there is no guarantee it is without errors.
As your mortgage professional, I am sending you the MMG WEEKLY because I am committed to keeping you updated on the economic events that impact interest rates and how they may affect you.